11.58 lakh railway employees will get bonus before Diwali ; Bonus will be equal to 78 days salary. The government has gifted the railway employees before the festival. About 11.58 lakh non-gazetted employees of Railways will get a bonus equal to 78 days salary for the year 2019-20. The total amount of this Productivity Linked Bonus (PLB) to the railway employees is estimated to be Rs 2081.68 crore.
However, given the way in which the DA of government employees was cut in the Corona period, it seemed that perhaps the railway employees might not get bonuses this year. In view of this, the railway employees started the movement several days in advance.
Also read NEET 2020: MCC releases counseling schedule for NEET, first round will start from October 27 | Check out here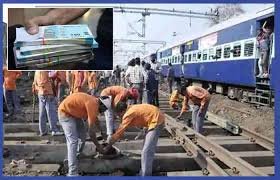 In the meeting of the Union Cabinet on Wednesday, the proposal of the Ministry of Railways to provide PLB equivalent to 78 days salary in FY 2019-20 for all non-gazetted railway employees was approved. The maximum limit for pay calculation for PLB payment is Rs 7000 per month. The maximum amount of money per eligible railway employee is Rs 17951 for 78 days.
Every year in Dussehra, railway employees get bonuses. Railway employees had warned of jamming the train across the country in the event of non-receipt of bonus this year and also demonstrated on Tuesday. In view of this, the Union Cabinet chaired by Prime Minister Narendra Modi on Wednesday decided to give bonus to all central employees. At the same time, the cabinet also accepted the proposal of the Ministry of Railways for the financial year 2019-20, in which all the non-gazetted employees except RPF and RPSF jawans were asked to give a bonus of 78 days.
Railway employees will get a bonus of 78 days this year, but the maximum limit of bonus will be Rs 17,951 only. Last year too, employees received a bonus of 78 days and its ceiling was also fixed at Rs 17,951. All the employees will get this bonus in one installment only and it will be deposited in the bank account of the employees through direct benefit transfer. The Ministry says that all non-Gazetted Employees of Railways will come under its purview. This will benefit a total of 11.58 lakh railway employees. It does not include the personnel of the Railway Protection Force (RPF / RPSF).
Also read Indian Railway to run around 400 trains ; Check route & fares here