Delhi government launched 'Green Delhi' app to fight pollution, people will be able to complain easily. With the increase in winter in the country's capital Delhi, pollution levels also increase every year. Due to stubble burning and other reasons in the neighboring states, the air quality here reaches very poor levels.
The same situation is being seen this year. Due to which people are facing respiratory diseases and healthy people are also having trouble breathing. Now, the Delhi government has launched an app to solve people's problems. This 'Green Delhi' app has been launched by Chief Minister Arvind Kejriwal.
Also read ISRO going to hire engineers for different positions ; Check here last date to apply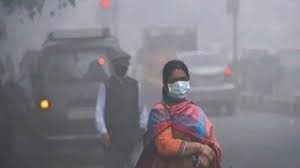 Delhi government launched 'Green Delhi' app
After the introduction of this app, people will now be able to fight air pollution. They can complain if they see pollution anywhere around them. The complainant can also upload audio, video and photos if he wishes. Necessary action will be taken after the complaint reaches the concerned department which will be monitored from 'Green War Room'.
After launching the app, Chief Minister Arvind Kejriwal said, 'You can complain about any kind of pollution in it, if you are seeing any kind of pollution anywhere, then you can complain through this app, audio in it Can upload videos, photos. ' He said that 'your complaint will reach the department that needs to act on it, the department will have to take action on the complaint in a time bound manner. Complaints will be monitored through 'Green War Room'. 70 Green Marshals will help resolve complaints on the app.
Delhi's Environment Minister Gopal Rai said, "The Delhi government has decided to allow only the use of 'green firecrackers'." The Delhi government will create 11 'anti-cracker squads'. If any manufacturer, seller stocks firecrackers other than green firecrackers, strict action will be taken against them.
Also check IGNOU Admission 2020: July session admission can take place till 31 October , IGNOU extended the date of application | Check out here