Drugs Case: Bharti Singh and her husband Harsh confessed to consuming drugs in NCB inquiry . Acting on drugs, the Narcotics Control Bureau (NCB) took action on Saturday and arrested famous comedian Bharti Singh. Bharti Singh was shown arrested before sunset. Tomorrow, he can appear in court through video conferencing.
In this case, the arrest sword is hanging on her husband Harsh Limbachiya. He is currently being questioned. It is believed that he can also be arrested. Today both were brought to the NCB office, where Bharti was arrested by the NCB after questioning for more than three and a half hours.
According to sources, during interrogation, Bharti Singh and her husband Harsh admitted that they both consume drugs. Today the NCB raided Bharti's house and office. The NCB recovered a total of 86.5 grams of hemp in this raid. After this, both were brought to the NCB office for questioning.
Also read Accenture Solutions Pvt Ltd vacancy for Java Full Stack Development Posts ; Apply Now | Check out direct link here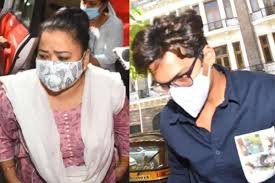 Drugs Case: Bharti Singh and her husband Harsh
Harsh was brought in the eco van of NCB. Whereas Bharti said that her health is not good. In such a situation, he was allowed to come in his private vehicle. Both were interrogated by sitting in different rooms. Because Bharti could not be stopped for questioning in the NCB office after sunset, the arrest was shown before sunset.
After the arrest, Bharti Singh will be taken for medical checkup. There will be a medical checkup led by the women's team. During this, corona will also be tested. Corona's test is done in Sion Hospital, which is located a little away from the NCB office. After this, Bharti will be produced in the court. If it is not possible today, then they will appear in court tomorrow.
Bharti Singh became famous with a TV popup comedy show. Along with the comedian, she is also an actress and TV host. In the year 2017, he married Harsh Limbachiya. She also hosts a TV show with her husband.
Also read SBI Recruitment 2020: SBI Apprentice recruitment process starts, how to apply – eligibility and important dates | Check out here