Farmers Protest current Update : Farmers appeal from the Singhu Border, everyone should join 'Bharat Bandh' on 8 December.
The agitation of farmers against the new agricultural laws continues on the 11th day. The next meeting will be held on December 9 with the farmers' government. The farmers announced 'Bharat Bandh' on 8 December and warned that if the government does not accept their demands, they will close more roads leading to the national capital.
Farmers have informed that India will be closed from morning to evening on December 8. Apart from this, there will be traffic jam in the entire country till 3 pm. Farmers have said that during this time emergency services such as ambulances etc. will not be stopped. Wedding trains will also not be stopped.
Farmer leader Baldev Singh on the Singhu border said, "I appeal everyone to join Bharat Bandh on December 8. 250 farmers from Gujarat will come to Delhi. There is a need to strengthen the farmers movement."
ALSO READ Punjab Teacher Recruitment 2020: Great opportunity to get job for 12th pass, vacancy released for 8393 posts | Check out here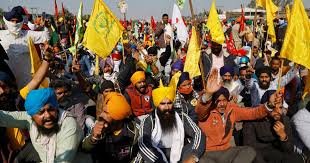 Farmers Protest current Update
During the agitation on the border, Jagmohan Singh Singhu, general secretary of the Bharatiya Kisan Union, said, "He has sought time for talks, but does not know whom to talk to, from officers, corporate houses or Nagpur RSS. For so many years Modi's mind Hearing this, now listen to the mind of the farmers. "
Rajasthan CM Ashok Gehlot has supported the Bharat Bandh called by the farmers. He tweeted, "Congress party supports Bharat Bandh on December 8 in favor of farmers. Rahul ji also raised his voice in favor of farmers through signature campaign, farmers and tractor rally. There are supporters and every Congress worker stands with them to take this issue related to farmer interests to every corner of the country. "
NCP chief Sharad Pawar will meet President Ram Nath Kovind on December 9 to discuss the issue of farmers. Maharashtra office of NCP has given this information.
ALSO READ UGC has extended last date for admission in open and distance education courses | Check out here