New Education Policy ,the key to fulfill nation's Aspiration: PM Modi . President Ram Nath Kovind and Prime Minister Narendra Modi attended the conference of governors held on the New Education Policy on Monday. The government has announced the New Education Policy some time ago, on which the churn is still going on. Prime Minister Narendra Modi said that the country's goals can be met only through education policy and system. The PM said that the government's interference in Education Policy should be reduced.
On the New Education Policy , PM said that in preparing this policy , lakhs of people were talked about including students, teachers and parents . The Prime Minister said that today everyone is feeling this policy, the suggestions that people wanted to see are visible. Now there is a dialogue on the new education policy in the country on how to implement it in the country, it is important because it is going to build the India of the 21st century.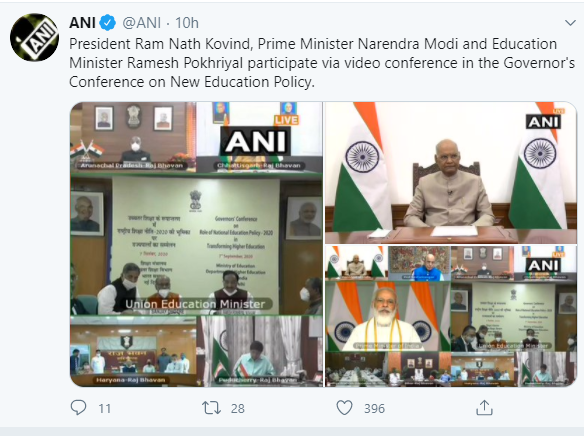 New Education Policy : Big things about PM Modi's speech
1 .Education policy and education system is an important medium to fulfill the aspirations of the country. Center, state government, local bodies, all are connected with the responsibility of education system. But it is also true that the government, its intervention, its influence, in education policy should be at least.
2 .The more teachers and parents are connected with education policy, the more students will be connected, the more its relevance and comprehensiveness increases. Millions of people of the country, living in the city, living in the village, people related to the education sector, gave their feedback for this, gave their suggestions.
3 .Whether there is a teacher or a big educationist in the village, everyone is looking at the national education policy, their education education policy. There is a feeling in everyone's mind that I wanted to see this improvement in the earlier education policy. This is a big reason for accepting the national education policy.
4 .The new education policy focuses on Learning rather than Studying and goes beyond Curriculum and emphasizes Critical Thinking. In this policy, more emphasis has been laid on Passion, Practicality and Performance than Process.
ALSO READ JEE Mains 2020 : Result is likely to be released on 11 September | Check out Rank cut off for NITs