Second cutoff list of DU released, know how many seats are left in which college .The University of Delhi on Saturday released its second cut-off list, in which several courses were discontinued and some programs saw a slight drop in the scores required for admission. The Lady Shri Ram College for Women had secured 100 per cent marks for three courses – BA (Hons) Psychology, BA (Hons) Political Science and BA (Hons) Economics. 99% for BA (Hons) Economics and seats under three courses are available to candidates requiring 99.75 per cent for both BA (Hons) Psychology and BA (Hons) Political Science.
More chances for reserved category in 2nd cut off : Most of the colleges have filled the general category seats & many colleges seats & many colleges have more than seats. 40 to 60 % seats of colleges have been enrolled. It was decided to make very few differences in the cut of. Now the reserved category seats are vacant and the students of this category have a higher chance.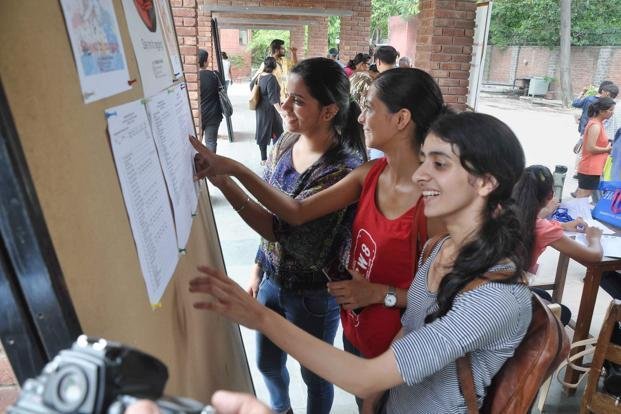 Also check Delhi University Admission 2020: Delhi University Start the process of online admission | Check out here
Second cutoff list of DU
However, the seats of General and OBC category have been filled in many subjects of BA. Actually, the first cutoff list on with the arrival, about 60 percent seats in most subjects were filled. In such a situation now more seats are left for the students of reserved category. Delhi University has done programs for Arts, Commerce, Science and other BA programs. Students can check list by visiting the official website.
The first cut-off list of Delhi University was released on 10 October. The cut-off bar has reached a high this year despite the Kovid-19 epidemic; Colleges like Hindu College and LSR College have issued a cut-off of 99% -100% for admission to honors programs. The Hindu College, which had secured 99.25 per cent marks for the same syllabus, has reduced it to 98.75 per cent in the second list. This course is available at Kirrodimal College at a cutoff of 98 percent.
Also read Delhi University Updates: Courses you get if you scored in 80s and below | Check all details here