WhatsApp : 5 upcoming features that makes messaging service better. New features keep coming on WhatsApp. And it is not going to end soon. Facebook-owned apps may come with some new updates in the coming days, which will make the user experience easier and better. Let us know what features are coming on WhatsApp.
New animated sticker pack : This new sticker pack can be seen in WhatsApp for Android. The animated sticker pack has been developed by Quan Inc and seen in beta. It has an animation of white cartoon character in which happiness, fear, sorrow and love express feelings other than love.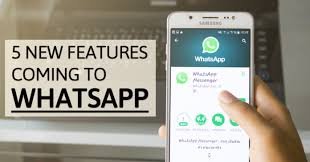 Wallpaper change color tone feature : The company is working on a feature that allows users to change the wallpaper of individual chats. According to reports, a new option, which is being called wallpaper dimming, is being developed. Since it is currently in development, it will not be seen in the latest update. The report states that the feature was seen in WhatsApp 2.20.200.6 beta which changes the color tone based on the user's preference.
New all out button : The company is now working on a separate call button. It is still being developed. This call button will bring together the shortcut given for video and voice calls. Currently, there are separate icons for voice and video calls on WhatsApp. But both can be brought together in the new button. It is expected to work in such a way in which when the user taps on the button, WhatsApp will give him an opportunity to choose in the calls.
Wallpaper doddle : The company can also introduce a new option 'Add Whatsapp Doodle'. This feature has been seen in the coding of WhatsApp 2.20.200.3 beta for Android. With this help, users will be able to put the doodle in the chat wallpaper. This is part of the company's move to bring better features to the wallpaper.
Catalog Shortcut for Business Account : WhatsApp is also preparing to bring catalog shortcut for business account. Catalog shortcuts are expected to provide quick access to the product portfolio. This will make it easier for businesses to communicate.
ALSO READ BPSC released revised dates for assistant engineers recruitment exams ; Check out here