Cheque payment rules ; The rules for cheque payments will change from January 1. The Reserve Bank (RBI) has decided to implement a positive pay system for check payments. Under the new rule, important details on payments above Rs 50,000 will need to be re-confirmed. This new rule of check payment will come into effect from 1 January 2021 .
This was announced at the MPC meeting by RBI Governor Shaktikanta Das. Keeping in mind the safety of consumers, it has been decided to implement the new rule of positive pay. Its purpose is to stop the misuse of checks. At the same time, it will also prevent fraud through fraudulent checks.
Under the positive pay system, a person issuing a check to a third party will also send the details of their check to their bank. Checks over Rs 50,000 will come under the positive pay system. In a way where the use of the check will be more secure with this system, the clearance of the check will also take less time. The person issuing the check will have to electronically re-inform the date of the check, the name of the beneficiary, the payee and the amount of the payment.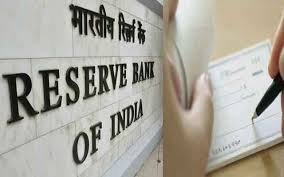 Cheque payment rules
The person issuing the check can provide this information through electronic means such as SMS, mobile app, Internet banking or ATM. After this, these details will be cross-checked before check payment. If any problem is found in this, then the CTS – Check Truncation System will be informed about this to both the banks concerned. That is, the bank whose check has been deducted and the bank in which it has been presented.
Under the positive pay process, the account holder will have to share the details of the check with the bank after issuing the check. These include check number, check date, payee name, account number, amount etc. as well as image of front and reverse side of the check.
According to the central bank, under this process the check will be processed only on the basis of the information given by the person issuing the check. In terms of volume, about 20 percent of the transactions through checks in the country will come under the scope of this system, while in terms of value, 80 percent of the transactions will come under this system.
ALSO READ Amazon Development Centre Ltd vacancy for the post of Cloud Support Engineer ; Bachelor's Degree | Check direct link to apply here