Covid-19 Update Russian President Vladimir Putin ordered mass corona vaccination from next week. Russian President Vladimir Putin has ordered a large-scale corona vaccination in his country from next week. Russia announced the first preparation of Corona vaccine Sputnik V (Sputnik-5) on 11 August in the world. Putin then said that this vaccine would be given to people engaged in risky services in the initial stages.
Then in November-December its vaccination will start among the general public. Russia has announced vaccination among the general public at a time when many companies, including Pfizer, Moderna, are seeking approval for emergency use of their vaccines.
Ongoing vaccine trials in India . There have also been trials of Russian vaccine Sputnik V in India. The third phase of the trial of the Russian Coronavirus vaccine (Sputnik-5) in India is being carried out by Reddy's Lab Lab. It was negotiated between Russian Direct Investment Fund (RDIF) and Reddy's Laboratories (DRL). Reddy's Lab will carry out clinical trials and distribution of Russia's Corona vaccine.
ALSO READ Amazon salary hikes ;Good news for Indian employees of Amazon, will get a special bonus of up to Rs 6300 | Check out here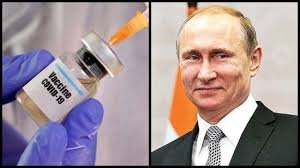 Covid-19 Update Russian President Vladimir Putin ordered corona vaccination
Criticism was used without clinical trial use Russia had cleared the emergency use of the vaccine in the initial phase without completing the second phase of clinical trial. It faced criticism from the World Health Organization and other global health agencies for this. However, Russia claimed on November 11 after a two-stage trial that its vaccine Sputnik V was 92 percent effective in protecting people from Covid-19.
He also says that the price per dose of Sputnik V is much higher than the American drug giants Pfizer and Moderna vaccines. Will be less.
Low price claim It was claimed from Sputnik V's official Twitter account that Pfizer's price has been kept at $ 19.50 and Modern's at 25 and $ 37 per dose. They actually cost $ 39 and $ 50-75 per person per dose. Two doses per person are required for Pfizer, Sputnik V and Modern Vaccine. The price of Sputnik V will be very low. However, its real value has not been revealed yet.
Also read NTA UGC NET 2020 Final Answer Key & Cut-Off Released : Check Direct Link here to check answer key