DU Cut-off list 2020: Know when the first cutoff list of Delhi University will be released. The first DU cutoff list 2020 of Delhi University for various undergraduate courses will be released on October 10, two days before the start of the admission process. The university will host online admissions due to the coronavirus epidemic.
Admissions to Delhi University will start after the announcement of the first DU cut-off list 2020. According to an official statement released by DU on 25 September, admissions under the first cut-off list will start from 12 October and end on 14 October. October 16 will be the last date for the submission of DU fees for the 2020 session.
Also read IGNOU Recruitment 2020: Recruitment to the post of Registrar at the salary of 2 Lakh | How to apply check here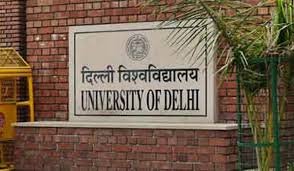 DU Cut-off 2020 list all details :
The new academic session of Delhi University will begin on November 18, 2020. University of Delhi, Dean (Admission), Shobha Bagai said that a webinar will be held for the applicants on Friday. Bagai said, "We will organize a webinar for the students on how to calculate their cut-offs, select courses and colleges on the dashboard. We will also have a meeting with the college convenors.
Bagai said, "We are aiming to release the cut-off on October 10 so that applicants can see it once and get acquainted with it. We have requested principals to periodically cut-off with us. Share off. It will depend on when they will give us the cutoff. " Dean of Colleges Professor Balaram Pani said that all principals have been asked to share the cutoff by 9 October.
Also read Apple iPhone 12 launch date: iPhone 12 series may launch on October 13, know special things here
TCS board will consider share buyback on October 7 | Check all updates here