Farmer's Protest ; SC will give order tomorrow on farmers' agitation and agriculture law case. The Supreme Court will give order tomorrow on the farmers' agitation and agriculture law case. Today, the court has given clear indications that it will stop the implementation of the law and create a committee to resolve the issue.
The Supreme Court today said that we are very disappointed with the way the talks are going on between the government and farmers regarding the new agricultural laws. The court said that we are not experts in the economy. Do you tell that the government will ban agricultural laws or should we impose it?
Chief Justice (CJI) S.A. A bench headed by Bobde said, "What is going on? The states are rebelling against your laws. "The bench said," We do not want to make any comments that mislead your conversation but we are very disappointed with its process. " s. Bopanna and Justice V. Subramaniam were also involved.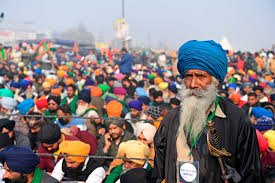 Farmer's Protest ; SC will give order tomorrow
The apex court was hearing several petitions challenging the new agricultural laws and petitions related to the demonstrations of farmers on the Delhi border, amid stalemate in the government's negotiations with the agitating farmers' organizations. Now a decision will be taken on this on Tuesday.
Attorney General K.K. Venugopal told the apex court that no law can be banned unless it violates fundamental rights or constitutional schemes. Please tell that the farmers' organizations are standing on the borders of Delhi for the 47th consecutive day. Farmers' organizations are demanding withdrawal of three new agricultural laws. At the same time, the government has refused to withdraw the law. The government is ready to amend it.
Eight rounds of meetings have been held between the government and farmer organizations. Now the next round of meeting will be held on 15 January.
ALSO READ Wipro new vacancy for the post of Senior Analyst ; B.Tech/B.E/BCA/MCA | Check here direct to apply