Farmers Protest ; Farmers reject proposal of central government to form committee to discuss agricultural laws. Talks between the agitating farmers and the government were held on Tuesday on the issue of agricultural law, but the deadlock still remains. During the discussion with the farmers, the government suggested to form a committee to discuss agricultural laws, but the farmers have rejected this proposal.
Union Agriculture Minister Narendra Singh Tomar asked the farmers' organizations to give 4 to 5 names to their organization. Let's make a committee in which there will be people from the government, there will also be agricultural experts, to discuss the new agricultural law. Prior to this, a presentation was made in front of farmer representatives on MSP and APMC Act by the government.
Three Union Ministers started talks with more than 30 representatives of the farmers who were opposing the three agricultural laws. The farmers are demanding the repeal of these laws. Meanwhile, the performance and emphasis of farmers has started catching up. Many more farmers from the state of Punjab and from Haryana are reaching Delhi for the Khaap movement. The farmers have said that they will continue the protest till the demand is met.
ALSO READ Amazon salary hikes ;Good news for Indian employees of Amazon, will get a special bonus of up to Rs 6300 | Check out here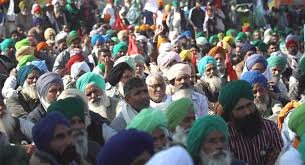 Farmers Protest ; Farmers reject proposal of central government
Defense Minister Rajnath Singh met with Union Home Minister Amit Shah, Agriculture Minister Narendra Singh Tomar and BJP President JP Nadda on Tuesday morning. These farmers are taking a stand in Delhi against agricultural laws. It is understood that in the third round of talks with farmers, it is possible that the government can provide information about the new agricultural law with the assurance that the minimum support price i.e. MSP is eliminated. will not be done.
First, the government proposed to negotiate on 3 December. Home Minister Amit Shah had conditioned that the farmers would have to go to Burani's Nirankari Ground for talks and move away from Delhi's borders. But this proposal of conditional negotiation was rejected by the farmers.
Late on Sunday, Union Home Minister Amit Shah had a meeting with several big leaders including BJP President JP Nadda. Now the government had invited the farmers to discuss the talks on December 1, i.e. before December 3, citing cold and corona.
Punjab Farmers Union leader Amrik Singh said that we will put our two demands mainly in front of the government. The first demand that the three laws be withdrawn with immediate effect and the second demand that the government give legal guarantee to the MSP.
The preparation from which the farmers have come, they have come to the thinking that the central government will not accept their words easily. They have 6 months of oil, gas, flour, pulses, rice. They will return these three laws to their home. The government should talk to them with an open mind.
Also read NTA UGC NET 2020 Final Answer Key & Cut-Off Released : Check Direct Link here to check answer key