Farmer's , supreme court update ; Farmer leaders refused to appear in front of the committee formed by the SC. Farmer leaders have said that the number of members in the Supreme Court coalition committee are supporters of agricultural laws. He has publicly advocated support for the law. Farmer leaders said that they will not appear before this committee. Their movement will continue and they will remain frozen. There will be a peaceful demonstration on 26 January.
Bharatiya Kisan Union (R) Balbir Singh Rajewal said, "We just said yesterday that we will not appear before any such committee. Our movement will go ahead as usual. All the members of this committee are pro-government and the laws of the government Are justifying. " Darshan Pal, President of the Revolutionary Farmers Union said, "We issued a press note last night stating that we will not accept any committee set up by the Supreme Court for arbitration.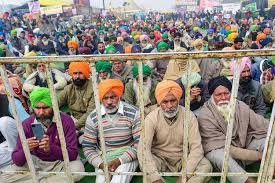 Farmer's , supreme court update
We were confident that on behalf of the Supreme Court, a committee would be set up by the Center which would remove the burden from their shoulders. On Tuesday, the Supreme Court put a stop to the implementation of all three new agricultural laws.
With this, a four-member committee was also formed with the intention of ending the deadlock. The committee includes Bhupinder Singh Mann, president of the Bharatiya Kisan Union, Anil Ghanwat, president of the Shetkari Organization, Dr. Pramod Joshi, director of the International Food Policy and Research Institute of South Asia, and agricultural economist Ashok Gulati.
Reacting to the court's decision, the peasant leaders welcomed it, but said they would not end their agitation until the laws were withdrawn. Senior farmer leader Abhimanyu Kohar said, "We welcome the court order banning the agricultural laws but we want the laws to be withdrawn completely, which is our main demand."
ALSO READ RRB NTPC Admit Card: Admit card released for second phase examination, exam to be held from January 16 | Check out here