LPG Cylinder: Gas cylinders will not be available without OTP from November 1, rules are changing for delivery of LPG. The rules related to home delivery of LPG Cylinder are going to be changed from November 1, 2020. Actually, from November 1, one time password (OTP) will become mandatory for delivery of gas in 100 smart cities of the country. Sources associated with IOCL said that the goal of the scheme is that the gas cylinders reach the right consumers. A new system is being implemented to ensure this. Under this new arrangement, the LPG consumer will get an OTP after booking the gas. After this, when the delivery boy arrives to deliver the gas cylinder to your house, the customer will have to tell the OTP. LPG cylinders will not be delivered without sharing OTP.
This will be a new system : Customers will receive a code after booking LPG Cylinder LPG cylinders under the new regime that changes from the first date. At the time of delivery of LPG Cylinder LPG Cylinder, customers have to show this code to the hawker who delivers the code. The objective of this initiative is to ensure that the delivery of gas is not done to any wrong person. The second aspect is that this arrangement may cause some problems to those people who have not yet updated their KYC, mobile number with the petroleum company.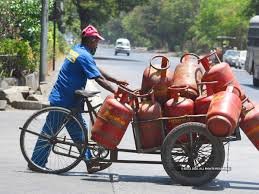 Gas cylinders will not available; New rules
With the help of the app, the facility to update the mobile number has also been provided. At the same time of delivery of gas at home, the delivery boy can update your new mobile phone with the help of the app available. If OTP does not come to you after booking the gas, then it is possible that your old or wrong number is present in the system. In such a situation, you can update the mobile phone using the given facility.
Initially, this rule would be applicable only to consumers of big cities. Oil companies are going to implement the system in the first 100 smart cities. However later the OTP system will be implemented across the country. Currently, its pilot project has been successfully carried out in Jaipur and Coimbatore.
Also read Flipkart Big Billion Days sale : Top discount on smartphones ,iPhone SE, Galaxy Note10+ and many more | Check out here