IRCTC / Indian Railways: Tejas Express, India's first private train on track again, know new directions before traveling. The country's first private train 'Tejas Express' is running again on the track from today i.e. October 17. The re-running of the Tejas train running between New Delhi to Lucknow (New Delhi-Lucknow) and Ahmedabad to Mumbai (Ahamdabad-Mumbai) has started from the first day of Navratri. Due to the Corona epidemic, the operation of Tejas Express was closed for nearly seven months on 19 March due to lockdown.
Indian Railway Catering and Tourism Corporation Limited (IRCTC), the government company running this train, has made special preparations for the operation of Tejas Express (Lucknow-New Delhi and Ahmedabad-Mumbai). Along with this, IRCTC also told that Tejas Express (Tejas Express) for increasing passenger demand in the festive season will start from 17 October .
No dynamic pricing ,The Tejas Express has dynamic pricing, meaning that the ticket prices in it keep falling. But in the current circumstances, there will be no dynamic pricing on its ticket.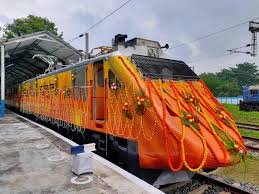 Indian Railways: Tejas Express | New rules & Guidelines
With the launch of Tejas Express once again, IRCTC has also released new guidelines. In such a situation, if you are planning to travel with these trains, then it is important for you to know about the rules.
1) IRCTC said that one seat each has been kept vacant to ensure safe distance between people in the train.
2) Passengers will be tested for their body temperature (thermal screening) before boarding the train.
3) Once the seat is seated, the passengers will not be allowed to change the seat.
4) All passengers will be given a kit for rescue from Covid-19 ,which will have hand sanitizer, mask, face shield and gloves.
5) All coaches of the train will be cleaned regularly. The passengers of the train will also sanitize the passengers' luggage.
6) It is mandatory for passengers and employees to use face cover / mask.
7) All travelers have to install the Arogya Setu App on their mobile. Also, whenever there is a demand, it will also be necessary to show.
Tejas Express, the country's first corporate train, started from Lucknow to Delhi on October 4 last year. After this, the second Tejas Express started from Ahmedabad to Mumbai on January 19 this year.
Also read LPG Cylinder : Gas cylinders will not be available without OTP from November 1, rules are changing for delivery of LPG