IRCTC / Indian Railway: Passenger trains will run from this day in Punjab, rail stop movement of farmers ends. Various farmer organizations of Punjab, opposing the three agricultural laws of the Center, announced on Saturday that they are withdrawing their Rail Stop movement from November 23 for the movement of passenger trains.
The decision to allow the movement of passenger trains in the state has come after a meeting of representatives of farmer leaders with Chief Minister Amrinder Singh. The Chief Minister invited the representatives of the farmers here for talks.
Chief Minister's Media Advisor Raveen Thukral tweeted that on Monday , farmers of Punjab will withdraw their agitation for movement of goods and trains on the Chief Minister's emotional appeal.
Also read AIIMS Delhi Recruitment 2020: AIIMS Delhi has extended the application date for 214 posts, apply till this date | Check out here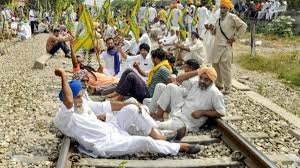 IRCTC / Indian Railway
Before meeting the Chief Minister, the farmers' organizations held their meeting to discuss the rail roko movement. Farmers' organizations had been organizing the 'Stop the Rail' movement from 24 September to protest against the agricultural laws. Earlier, he had given consent for the movement of goods trains in the state.
However, the deadlock continued between the protesting farmers and the railway over the restoration of trains. Farmers' organizations said that if the center first starts operating goods trains in the state, then they will allow passenger trains to run.
But the railways refused to run the freight trains again and said that it would operate both the goods train and passenger trains or not operate any. Farmers organizations were also under pressure from industries, which have lost about Rs 30,000 crore due to non-running of goods trains in the state.
Heavy losses due to farmer movement. A huge loss has been estimated from the farmers' movement in Punjab. The protests started from 24 September affected the operation of 3,850 freight trains, so 2,352 passenger trains had to be canceled. Many were changed along the way. Railway told that there was a loss of about 2,220 crore rupees due to farmer agitation.
Also read Drugs Case: Bharti Singh and her husband Harsh confessed to consuming drugs in NCB inquiry | Check out here