IRCTC's new rule regarding train ticket booking; Now seats will be available five minutes before the train starts. Indian Railway Catering and Tourism Corporation (IRCTC) has issued new rules for ticket booking. According to this rule, now seats will be available even five minutes before the train starts.
Indian Railways will make a second chart half an hour before the departure of the train so that some people can be allocated seats and can travel on their own if the seats are vacant at the last moment. Explain that due to coronavirus infection in the last few months, the second chart was being prepared two hours ago.
Refund on ticket cancel . A statement issued by Indian Railways said that the second reservation chart may be issued from 30 minutes to 5 minutes before the train opens. During this time, if train tickets are canceled, refund will be available. This will provide relief to the passengers whose plan changes at the last minute and has to cancel the train ticket.
Also read IBPS Specialist officer SO Syllabus 2020 ; Check exam pattern and syllabus here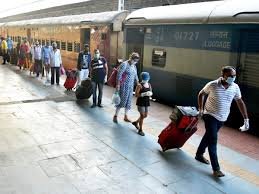 IRCTC's new rule regarding train ticket booking;
There is no change in the rest of IRCTC's online booking rules. According to railway officials, passengers will have to arrive at the railway station two hours in advance.
The purpose of issuing the second chart of ticket reservation half an hour before the departure of the train from the station is to close the booking online or through window ticket on the seats remaining vacant after the first reservation chart. This will benefit those who have already booked tickets in waiting. These changes in the rules will allow more time for tickets to be confirmed in waiting.
Before Corona, IRCTC released the first chart 4 hours before the train opened. For the remaining seats, tickets could be booked through the ticket counter. Even half an hour ago, tickets were available from the counter. Ticket booking could also be done online before the second chart was created.
These seats were available on first come first serve basis. In all zones of the railway, a second reservation chart will be released half an hour before the train opens. This has been done for the convenience of the passengers.
Also read Reliance Jio ; 3 new all-in-one plans for JioPhone users, will get 1.5GB data daily with 336 days validity | Check out here