Schools and religious places can be opened after Diwali in Maharashtra: CM Uddhav Thackeray. Chief Minister Uddhav Thackeray said that the temples and other places of worship since March in Maharashtra will be reopened soon. Chief Minister Uddhav Thackeray wished Diwali wishes to the people of the state on Sunday. He said that SOP can be issued after Diwali to reduce the spread of the virus. Thackeray also confirmed that the schools are ready to reopen after Diwali. Security protocol has already been set for this.
The Chief Minister said that due to senior citizens, they were not allowing religious places to be opened. Medical experts believe that the elderly are at greater risk of getting coronated.
The Chief Minister said that although SOPs will be issued later, wearing face masks will be mandatory while visiting places of worship in the state. He laid special emphasis on that and warned people that those found without face masks would be fined.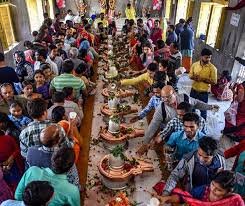 Schools and religious places can be opened
He said, "People are criticizing me. I am ready to face it. I am cautious for senior citizens. If a Covid positive person is without a mask, he can infect 400 other people. Doctor's figures. "
Thackeray and Governor BS Koshyari went face to face in the beginning of last month for the reopening of temples in the state. The governor had asked the Chief Minister in a satirical letter whether he had become "secular". In response, the Chief Minister said that his Hindutva does not require a certificate and the government will take a decision only after "careful consideration" on the matter.
The Prime Minister and many other leaders, including Prime Minister Narendra Modi and Union Health Minister Dr. Harsh Vardhan, have all emphasized the need to maintain social distance during festivals so that the virus cannot spread. Thackeray also pointed to Delhi, where the increase in air pollution has shown an alarming increase in cases in the last 10 days.
Thackeray also said that, "In Delhi we are seeing an increase in cases. They say that it is due to increase in pollution … I have not gone there, but they say so. So I would like to request you that you are on Diwali Do not burst firecrackers. " The chief minister did not specifically ban it – as many other states including Delhi have done, but asked the public to "control" it.
Also read WhatsApp Pay New Feature ; Now make money transactions through WhatsApp Pay | Check out here