Pubg Banned in India Indian Government banned 118 Chinese app among with Pubg : The Indian Government has given a big shock to the dragon amidst the ongoing conflict between India and China. In a major action , the government has banned 118 mobile apps including PUBG. The banned apps include Baidu , Baidu Express Edition , Tencent Watchlist , FaceU , WeChat Reading , Ludo all star and Tencent Weiyun , Besides PUBG Mobile and PUBG Mobile Lite . According to an official statement.
The Government has banned 118 apps that threaten India's sovereignty and integrity , India's defense , state security and peacekeeping . " The government taken this step at a time when China is in Ladakh with the tension on the line of actual control has increased.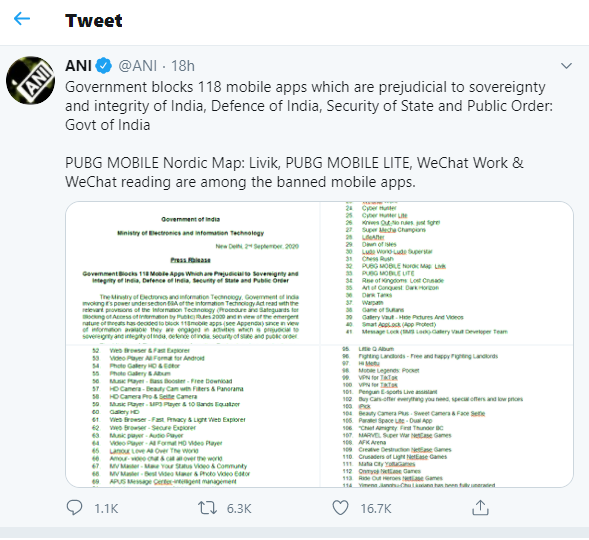 Pubg Banned in India : Banned imposed due to national security.
The Ministry of Electronics and Information Technology has banned these 118 applications under section 69A of the IT Act . According to the Government , these mobile apps have been found to be involved in activities against India's sovereignty , defense and security of the states and public order .
The Ministry of Electronics and Information Technology has said that it had received complaints against these apps from several sources . There were several reports to the ministry that some mobile apps available on Android and iOS platforms were stealing user's data . Illegally transmitting this data to servers located outside the country .
Earlier in late June , the Indian Government had banned 59 mobile apps from China including Tiktok , Halo . After this 47 more chinese apps were banned in late July . Now 118 apps have been banned this time .
ALSO READ Railways probably to run 100 more trains soon
JEE Main exam 2020 Important updates
Banks to refund charges on digital payments
IGNOU 2020 Exams to be conducted from 17 September | Check out Here .