TCS , Infosys , HCL Tech gain the most says reports; Covid – 19 impact . According to a report by Kotak institutional Equities , Indian IT Service provider like TATA CONSULTANCY SERVICES (TCS) will benefit the most from accelerated IT spending by their customer . According to the Gartner , the report states that companies hurry up their expand in innovatory ideas to reduce their Operating costs , Re-imagine customer experience , and back to the fresh business at the behind of Covid-19 Pandemic.
ALSO READ Railways probably to run 100 more trains
TCS , Infosys , HCL Tech gain the most , says reports :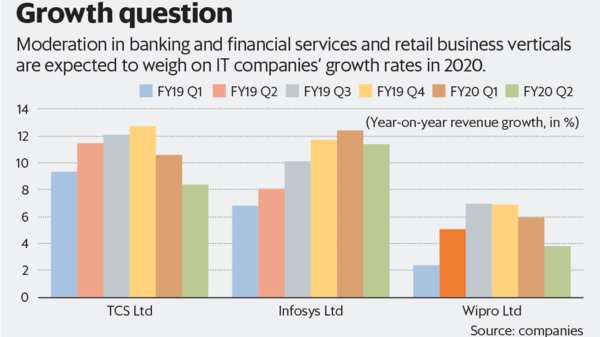 Their is an opportunity for Indian IT companies like HCL , Infosys , TCS and many more to enable " WORK FROM HOME" as a business. This will be the third from of expanding their growth , and deliver double digit growth in the market as a millennium. In terms of customers , retail clients are more investing in online platforms as shops are closed due to Covid-19 pandemic thats why big retailers are investing in digital platforms to increase online sales . As Sudden , e-commerce sales increased from 6% to 8% between January and June.
According to the reports , After a 2.7% drop in USD revenue for the Top 5 Indian IT firms , their is a hope of sharp growth on the top of FY22 & FY23E , but the only company which seems to be behind in this growth is Wipro. TCS , on the other hand may race forwards of the others . It has an growth as it is the only IT company which has great market share in the field of healthcare than in manufacturing. Goldman Sachs said that " We see TCS as one of the largest company of these trends as its gives wide array of services , wide client base , strong execution and ability to work at large scale ."
Also Read JEE Main exam 20202 second day survey
Paytm recruit 1000 individual to help growth across businessess